Why 3rd Party Recognition Matters?


Industry awards, analysts recognitions, and customer success stories are powerful ways to build confidence with prospects when they are deciding to purchase your product or service.

Think about the last product you bought, online or in the store, that was more than $100. You probably did not fully believe what the marketers were saying on their websites or what the sales people were telling you. You most likely wanted to find out what current users, reviewers, analysts, or the web was saying about the product or service you were about to buy.

It's easier to make a buying decision when supported by positive 3rd party recommendations.

2011 Codie Award - An Important Win

I have passion for marketing and am currently doing product marketing in a billion dollar industry called project and portfolio management software. Our company sells SaaS project management software and we deliver it in the cloud (on demand) saving companies thousands of dollars.


An important award for our company is the SIIA Codie Award for "Best Project Management Solution". The finalists for this award are usually are closest competitors and each year the race is tight to see who will be able to tout their product as the best project management solution.

Each year a panel of judges (industry experts) are selected. This year a colleague and I collaborated on a product demo we presented to the Codie judges panel. We focused on what made us different (The Why?) and how our product solved our client's challenges quicker and more effective than anyone in our market. Just a few weeks ago, we got the news that we won! This is the third time in four years that we have won this award and just like I mentioned above, the Codie is a an important win and a great 3rd party validation that helps our sales team and sales process.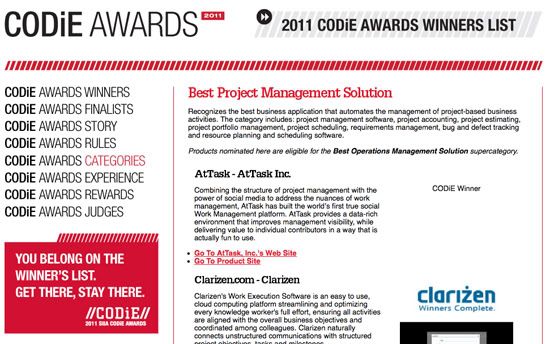 I want to give a shout out to my colleagues Adam Michaelson and Ty Kiisel who were instrumental in this win. Great teamwork!