Last night I saw Chasing Mavericks. Chasing Mavericks is movie based on the life of surfer Jay Moriarity and Mavericks, a famous big wave break. The movie focuses on Jay Moriarity's goal of surfing Mavericks as a young 16 year old. I highly recommend the movie.
4 Pillars for Strong Preparation - Setting Up Success
In the movie, Jay's surf mentor (Frosty) Rick Hesson discusses 4 pillars needed to survive and surf Mavericks. The movie focuses on these 4 pillars of preparation.
Here are Frosty's four pillars of preparation - setting up success:
1. Mental - Use your mind to be smart. Know your surroundings and circumstances. Know how to adjust quickly to what you see and learn, so when everything breaks loose you are prepared.
2. Emotional - Emotions both too positive and too negative can kill you. Fear will be the biggest emotion that will paralyze you. You have to be able to remain clam, identify the emotion, and suppress it. You have to practice this. This is a key to successful preparation.
3. Physical - You have to be stronger than you think. When you drop into a Maverick's wave, it is going to require strength, power to not let the wave eat you alive.
4. Spiritual - You have to dig deep. As you approach dropping into Mavericks, the spiritual is going to have to be with you. The connection with the wave and your soul will be key to surfing and conquering Mavericks.
For me, preparation has always been a key ingredient to success in sports, business, and life. You can never forget the foundation of preparation.
Here is the simple formula:
Strong preparation = strong performance
Weak preparation = weak performance
This sounds so simple but it's so true.
Follow me on twitter to receive blog updates click here
Chasing Mavericks Movie Review
I would not consider myself a movie critic, just someone who enjoys the escape and inspiration of a good movie. Chasing Mavericks was one of those movies that positively impacts your life. It has a great message. You leave the movie theater wanting to be better, wanting to fine tune your life's mission. I highly recommend this movie.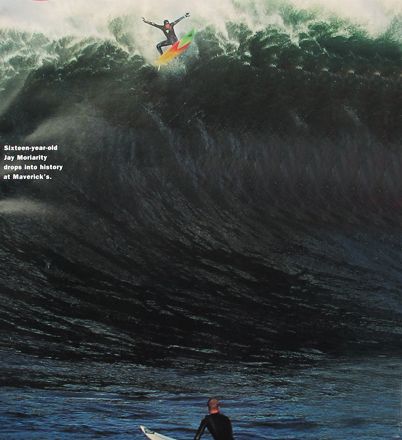 Jay Moriarity's famous Maverick's picture