The Momentum Building - iPhone 2007

On January 9, 2007, Steve Job's introduced the iPhone to the world at the Macworld convention and just 6 months later announced at Apple's Worldwide Developers Conference that the iPhone would support third-party applications using the Safari engine on the device. iPhone users would than have access to thousands of third-party Web 2.0 applications via the internet that supported the cool new touch screen technology of the iPhone.

Seizing the Opportunity

Our marketing web developer Eric Berry was at the WWDC when Steve Jobs announced this news. He is a huge Apple fan and came back to the office excited to be one of the first to develop an iPhone web app that supported our software (attask.com). He seized the opportunity and began development. As he was programming the web app, I reached out to Apple to learn how we could be part of their inaugural iPhone web app launch and store on apple.com. We gave them demos of the iPhone web app and sent in product screenshots. We were super excited when we got news that we made the cut and would have our iPhone web application published as one of the world's first iPhone productivity apps and would be highlighted on apple.com's iPhone web app store.

@task for iPhone launched as one of Apple's first iPhone web apps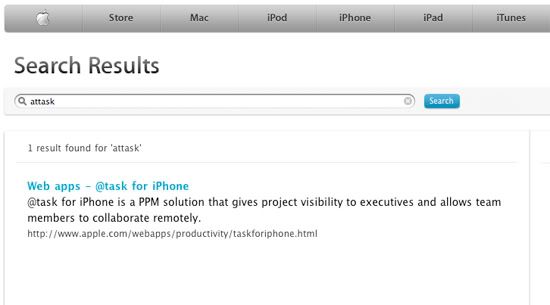 Results from searching for AtTask on apple.com
The Launch

Apple was creating some big hype around the iPhone and the launch of third-party iPhone web apps and we wanted to capitalize on this momentum. We quickly developed an iPhone marketing strategy that included: SEO (search engine optimization) and SEM (search engine marketing) key iPhone terms, a landing page that included buyer persona messaging, screenshots, and a 30-day trial promotion. Apple permitted us two url links, one for our company and one for the web application (our landing page). We also trained sales on the product positioning, messaging, and strategy of the 30 day trial. When Apple launched the iPhone and web app store on apple.com we were ready for the iPhone momentum.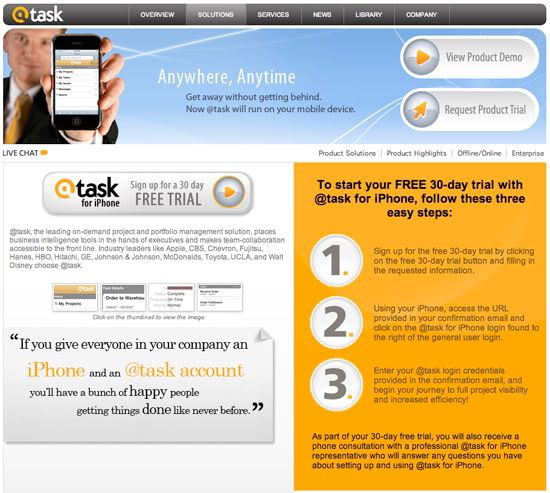 @task for iPhone landing page to support marketing campaign and strategy
Riding the iPhone Wave

We knew there was going to be excitement around the new iPhone and web app store, but weren't expecting what happened. Within one hour we had over 1,000 people sign up for the trial and had huge influx of traffic to our website. Our phones were ringing off the hook with sales people who wanted to make sure all the new leads were for real. Sales was excited to take these leads and turn them into opportunities. This was a big win for our company and during this process I learned an important lesson, when Apple creates the perfect wave, you've got to position your product for the momentum.

Shout Out

This shout out goes to Eric Berry for the long hours he spent developing one of the world's first iPhone web apps that allowed us to capitalize on the iPhone momentum, ride the wave, and drive sales revenue.
@task for iPhone product screenshots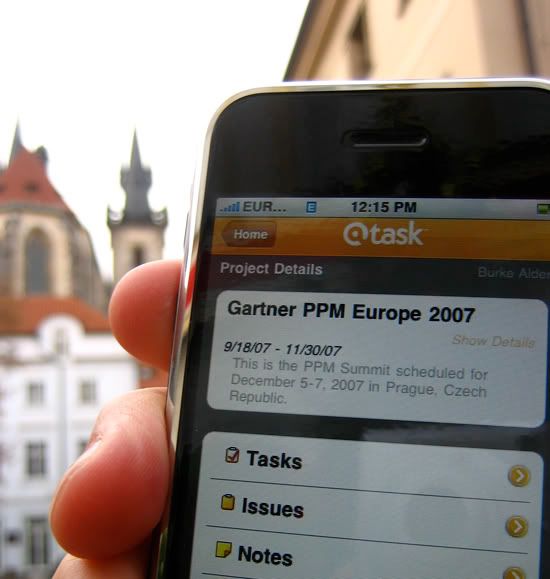 Using @task for iPhone to get work done at the Gartner PPM Summit in Prague
World's First Project Management iPhone Web App - Read Story